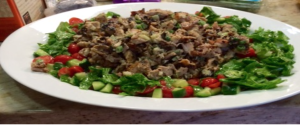 30 Mar

Dr. Sheldon's Recipe of the Week – Tarragon Curry Chicken Salad

Here's a recipe that's great for summer- light, refreshing and healthy. It's an amalgamation of several chicken recipes, mostly based off the recipe for Julienne's Chicken Salad from the LA times archives.

Tarragon Curry Chicken Salad
1/2 bunch celery, finely chopped
1/2 bunch green onions, finely chopped
1 bunch fresh tarragon leaves, chopped
1/2 cup mayonnaise
salt, white pepper to taste
buttermilk brined curry chicken (see below)
cherry tomatoes, halved
2 cups arugula
Cucumbers cut into 1/2 inch dice
1-2 TBSP olive oil
1-2 tsp champagne or white balsamic vinegar
Combine celery, green onions, tarragon, mayonnaise, salt and white pepper. Mix well. Pour over chicken and toss to coat chicken well.
In a separate bowl, combine cucumbers, arugula and tomatoes. Dress lightly with the olive oil, vinegar and salt/pepper.
On a platter, make a ring of the green salad. Mound the chicken salad in the center.

Buttermilk Brined Curry Chicken
2 cups buttermilk
2 tsp kosher salt
freshly ground black pepper
2 tsp curry powder
1 tsp ground cumin
1 tsp ground coriander
2-3 lbs boneless chicken breasts or thighs (I prefer thighs)
Combine buttermilk and spices in a plastic bag. Add chicken and marinate 4 hrs – overnight. Grill over moderate to high heat until cooked through.