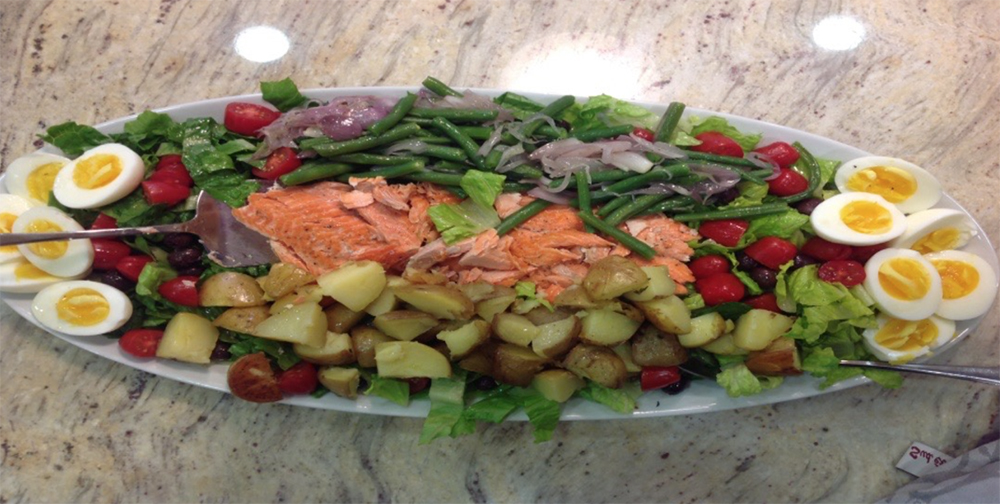 15 Jun

Dr. Sheldon's Recipes – Niçoise Salad

Niçoise Salad – serves 6
1.5 lbs cooked thick fish fillet or steak (ex: halibut, tuna, salmon, or steelhead trout)
1-1.5 lbs yukon gold potatoes, cut into quarters.
1 lb haricot verts or green beans, trimmed and cut
3-6 hard-boiled eggs, peeled and halved.
3/4 head romaine lettuce, chopped
1/2 cup pitted Niçoise olives
3 shallots, thinly sliced
1 cup cherry tomatoes, cut in half
fresh thyme leaves
2-3 TBSP champagne vinegar
1/4 tsp dijon mustard
olive oil, divided
salt/freshly ground pepper
Instructions
Preheat oven to 400 degrees. Toss the potatoes with 1-2 TBSP olive oil, salt, pepper & thyme leaves. Put in roasting pan, cover with foil & roast 40-60 min. until tender when pierced with a fork. Allow to cool to room temperature, then chop potatoes into roughly bite sized pieces (each quarter into about 3 pieces).
Boil the haricot verts for 2-3 min until blanched, but still a little crunchy (slightly longer if using regular green beans). Immediately transfer hot beans to ice water to stop the cooking, then drain and leave at room temperature.
Heat 1-2 TBSP olive oil in a shallow pan and add the sliced shallots and some more thyme leaves. Season with salt and pepper. Cook until the shallots are softened – 2-3 minutes. Then add the green beans, season again if needed and cook another 1-2 minutes. Allow to cool to room temperature.
To make the vinaigrette, combine the mustard and vinegar in a small bowl and whisk together. Add 1/2-1 tsp of salt and freshly ground pepper. Slowly add 1/8 -1/4 cup olive oil and whisk until all combined and emulsified.
Mix the lettuce, olives & cherry tomatoes together in a bowl (or on the platter you will use.) Drizzle with 2-3 TBSP of vinaigrette over the salad & mix well.
Assemble the salad:

Arrange the greens with the tomatoes and olives in a ring on a large oval or round platter, leaving a space for the fish.
Place the cooked fish in the center.
Layer the green bean/shallot mixture on top of the lettuce on one edge of the platter, the potatoes on the other end.
Place the hard boiled eggs on either end or interspersed around the ring.
Drizzle dressing over the whole salad to taste.