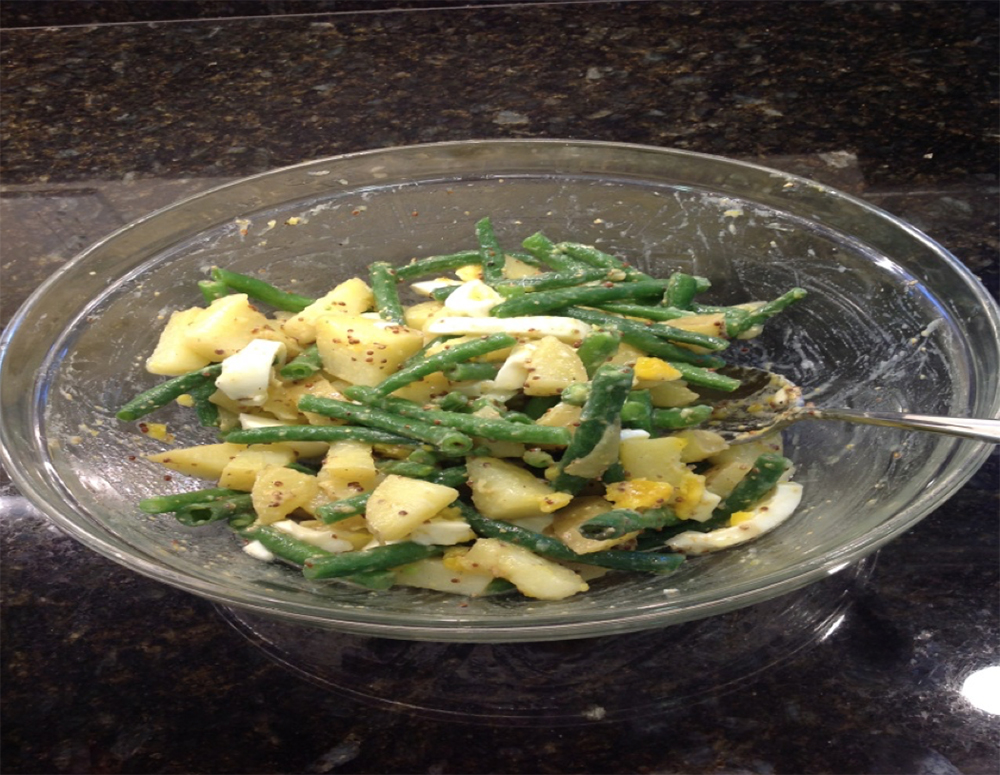 26 Aug

Dr. Sheldon's Recipes – Potato and Green Bean Salad with Egg and Mustard Vinaigrette

This dish is perfect for these 100 degree days since it can be made ahead of time. It can be eaten warm, cold, or at room temperature and can easily comprise a light meal as there's protein, starch and vegetable in one dish. There are countless versions of this recipe but this particular one I devised.

Potato and Green Bean Salad with Egg and Mustard Vinaigrette
Serves 4-6 as a side dish
3 hard boiled eggs (cooked until the center is just firm)
2 large or 3 smaller Yukon Gold potatoes, cut into 1 inch chunks
1/4 lb green beans, cleaned and trimmed
2 1/2  TBSP whole grain mustard
1/2 tsp Dijon mustard
2 1/2  TBSP white vinegar
1/2 tsp salt
2 1/2 TBSP olive oil
freshly ground pepper
Boil the potato chunks in well salted water until tender, about 8-10 minutes and drain immediately. Set aside
Boil the green beans in well salted water until tender but still slightly crunchy, about 3-5 minutes, then drain. Immediately put the beans in a large bowl of ice water until cooled, about a minute, then drain again.
Peel the hard boiled eggs and cut into large chunks (about 6-8 pieces/egg)
Whisk the mustards, vinegar, salt and pepper together in a large serving bowl. Slowly whisk in the olive oil until a dressing forms.
Add the potatoes, green beans and eggs. Mix well. Taste for seasoning. This can be served immediately, or can be served later at room temperature, or kept overnight in the refrigerator.